Although Glee is only a national show for the UK, the scale of the stands and the work so many exhibitors put into this three day show is breathtaking. It truly is an industry event that is a must to attend for UK Garden Centres and any Outdoor Lifestyle business.
This year a couple of things caught my eye:
•    the HUGE selection and competition in gumboots… must be something to do with the UK weather, but the variety and quality is amazing!
•    how big the pet category is in UK Garden Centres – the Pet Face stand was huge!
•    the best new product – a Bakerstone pizza oven.  This very clever, specially designed box sits on your BBQ and channels the heat to create a pizza oven capable of cooking perfect pizzas in just 3 minutes.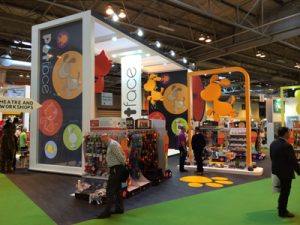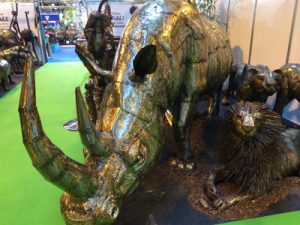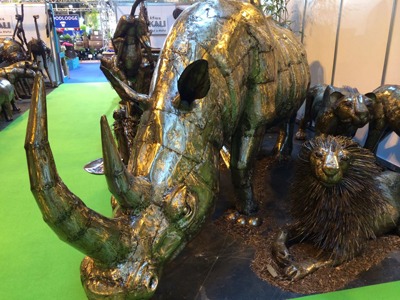 Due to the economic and political challenges that Africa faces, I see very little product come out of there these days. However there was a selection of life sized African statues that looked terrific, check out the rhino!
It wasn't all hard work – we visited the glorious MPW Steakhouse Bar & Grill to enjoy Birmingham's skyline and planned with our UK logistics company, Woodlands, how we can serve our fantastic UK clients over the next 12 months.
The Little Owl was a cute pub we visited since it was so close to our hotel. It's always a great experience eating our meals in historic buildings that are hundreds of years old.
Until next year, Birmingham! Thanks for a great visit.