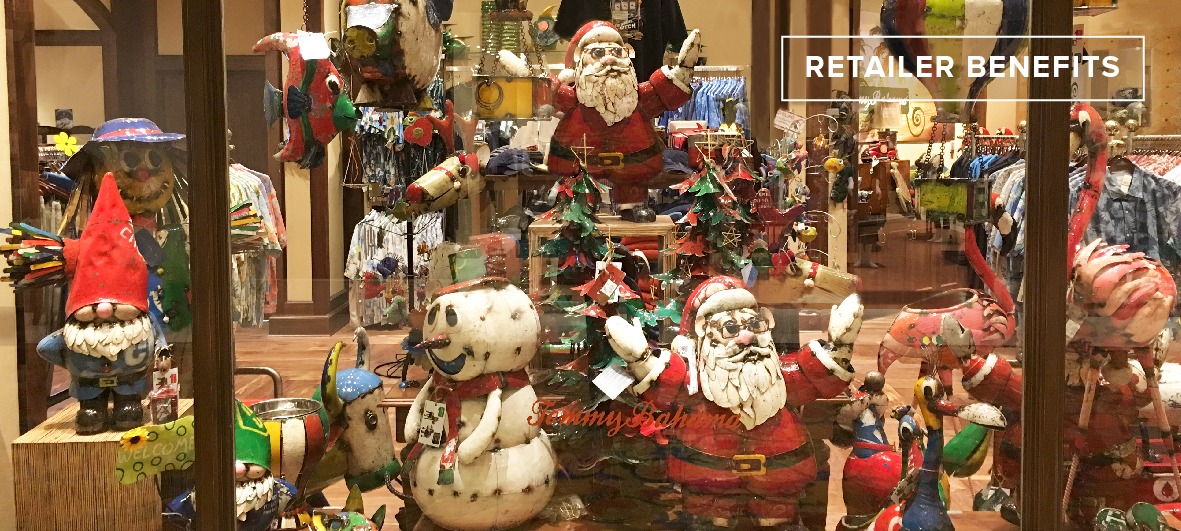 Benefits of Becoming a Think Outside Retailer
High-quality items not only yield greater returns they also generate more exposure. People share memorable purchases with their social circles, which in turn generates referrals. Strategically displayed eye-catching pieces will also drive more shoppers to your store, people you may not have attracted otherwise.
Higher Returns
More Exposure
Referrals
Higher Foot Traffic
We create the environment for someone's business to do more of the above. You attract more people, who spend higher amounts, they talk about it and then repeat business comes. It is a winning formula that we have repeatedly witnessed businesses embrace and we would love you to experience the amazing pulling power Think Outside products have.
Register with us to become a retailer today to access the benefits and support that Think Outside provides to its retailers.
Register with us to become a retailer today to access the benefits and support that Think Outside provides to its retailers.
 RETAILER TESTIMONIALS…
Art for the Soul
We love you Think Outside!!!!
My employees get so excited when they here we are getting another shipment coming in. And "Thank You" Think Outside for making it easy to sell your wonderful merchandise. Our customer just gravitate to all your products,
Thanks So Much,
VALINDA
Beach Bums
"What a show stopper!!!!
Having the Woody and Airstream Trailer displayed in our storefront window has increased both traffic and sales.  The investment in these two pieces was the best marketing I could have paid for.  No magazine or newspaper ad could have produced the interest in our store that these two magnificent pieces did. We will be back for more!"
Catherine Perry
Bearings
We ran across "Think Outside" at the Atlanta Market. When we saw it we knew our customers would love it. We have it merchandised all over our store. With Football season upon us, we have a "Larry the Longhorn" to greet you at the door and a "Bistro Set" in our Gourmet Department for our customers to sit at and enjoy their coffee. It is well-made and very unique. They "Thought Outside" when they designed this line of product!
Steve
Flower Shop
"We love it!
I'm sorry to continue to bother you but your stuff is just so popular! No sooner do we get the items unpacked people are buying them!"
Donna
Biltmore Estate
"Your products are so nicely finished and colourful! Our Guests love them so much and our sales have increased because of the quality and creativity that goes into every piece."
Catherine Arthur
Newman Visitor Centre
Your media library is such a fabulous help to our marketing….I am about to use this in our social media..!!!  Thank you so much for your assistance…..
Barbara O'Driscoll
Retro Delights
Hi Aaron,
''I have looked at your media library – in fact, a couple of times – excellent work! There are great ideas for that those that stock your products – and those that are looking for further marketing inspiration''
Noel Wilcox
Marketing Support that Inspires your Customers
Let us do your marketing for you!
As a Think Outside Retailer you will have full access to our media library; putting the world of marketing content at your fingertips.
Our media library updates regularly and contains social media images, fun viral videos, professional lifestyle and studio photographs, in-store marketing and much, much more! Our media library takes all the pressure off you to create content and enables you to focus on the business at hand.
Leveraging our E-commerce Strategies to Drive Customers to You
The Think Outside brand is growing at a fast pace and we want to build on that to support our retailers and make purchasing easier for customers.
We have utilized the power of Quivers, which provides us with a full e-commerce solution that engages our retailers for fulfilment, creating new marketplace opportunities.
Quivers enables Think Outside to share orders made on our website with authorized retailers in the local area. Retailers are notified of the opportunity to claim and fulfil the order instantly. The Quivers timers are designed to drive local fulfilment first and give a fair and equal opportunity to all retail partners, while still keeping the consumer experience in mind.